Lada Niva 4×4 Camping Car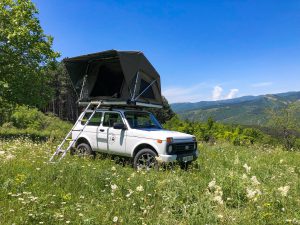 With over 530.000 exports and fan clubs all over the world, it's no small wonder that the Lada Niva is still in production today. Due to its lightweight yet durable build, this pocket-sized 4WD has reached more extreme places than most people do in their lifetimes – in 1988 it reached Mt Everest base camp, 1990 saw it become the first car to spend more than a decade in the Antarctic, and in 1998 it climbed to a height of 5726 metres above sea level in the Tibetan plateau in the Himalayas.
Since 2014 Lada has produced a new and improved version of the Niva called the 4×4 Urban, a modernised comfortable version of the Niva 4×4. These models are equipped with air conditioning, heated seats, electric windows and mirrors. Other than a few other cosmetic changes, the 4×4 Urban is the same classic Lada Niva, with the same time-tested design: a lightweight (just over a tonne!) unibody, full-time 4WD, a lockable central differential, independent gas-charged shock absorbers and high/low range gears.
So you get it, these cars can go everywhere, but what makes them the coolest camping car in the Caucasus?
To give you maximum comfort while you're out exploring the wilderness in this nifty 4WD we provide all Niva rentals with a rooftop tent. For those not familiar with such things, these are the bee's knees of camping products: they take less than a minute to set up, come with a 140x200cm memory foam mattress with all bedding included and take all the troubles of tent camping away by being mounted on the roof! In the rear of the Niva, you'll find chairs and a table, as well as a kitchen box set up to hold all your cooking needs for on the road: a portable stove with gas bottle, cooking equipment and a water container.
Fun fact – During the '80s and '90s Coca Cola imported its drinks into the Soviet Union and traded them for Lada Nivas, which were then shipped to the UK and sold there.
Features and specs
Seats: 2
4G WiFi hotspot
Sleeps: 2 adults (in tent)
Rooftop tent (included): 140x200 cm
Bluetooth speaker
4x4
Low-gear, differential lock
Kitchen:
camping stove,
freshwater tank and
washing up tub
1.7L petrol engine
Fuel usage: ~9-13L/100km
Manual 5-gearbox
Cookware: pots & pans, bowls, plates, cutlery and utensils
Power steering
Bedding: sheets, blankets and pillows
Airconditioning
Camp table and 2 chairs
USB charging outlets

Small 12V compressor fridge
All-risk insurance
Prices
| | 3-6 days | 7-14 days | 15-20 days | 21+ days |
| --- | --- | --- | --- | --- |
| High season | €69/day | €64/day | €59/day | €49/day |
| Low season | €59/day | €54/day | €49/day | €39/day |
High season: May-October | Low season: November-April
So what are you waiting for?
Book now
Availability calendar