Get outdoors in style in one of our fantastic campers! Our brand new vehicles have been custom converted to give you a care-free trip with modern comforts, all-risk insurance, and so much more.
---
UAZ Buhanka 4×4 – Dare to be different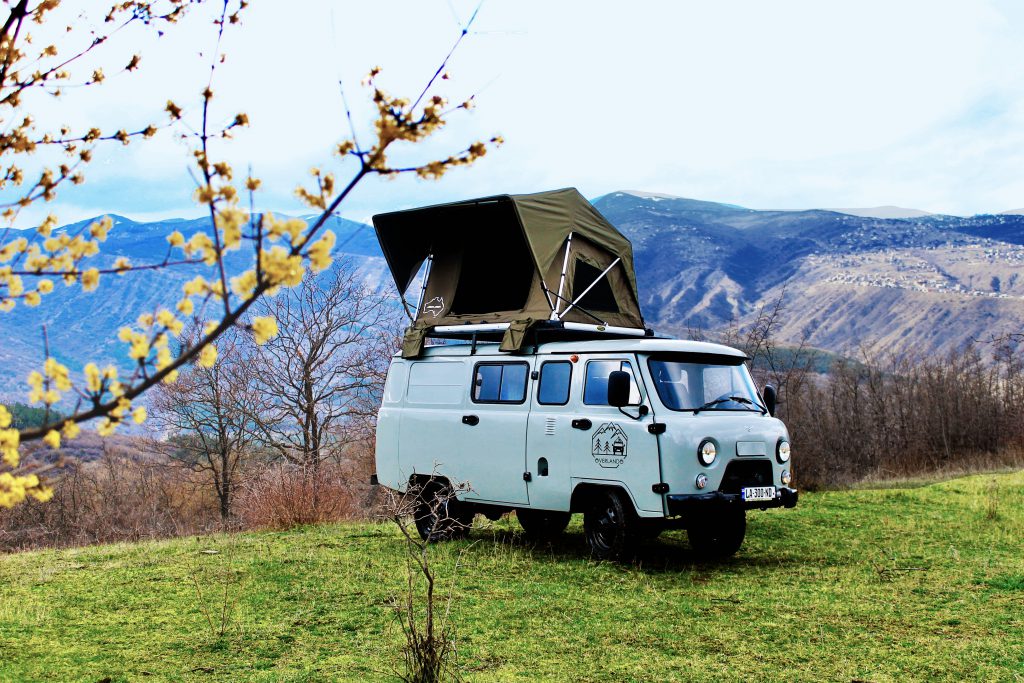 This Soviet classic is still going strong after 60 years of production. One of the most robust and reliable off-road vehicles ever made, it has reached the far ends of the world crossing roughest of terrain.
A true workhorse, the Buhanka was designed to escort tanks to the frontlines. Due to its rugged build, it's had so many varied uses over the years: ambulances, school buses, cargo transport, postal services and now, as a campervan. It's built like a truck, can handle rough terrain, has heaps of room to move inside, and looks damn good too. What more do you want?
Although the appearance of UAZ Buhankas hasn't changed much over time, they have had some modifications to meet today's demands. All our vans are produced from 2018 onwards and are equipped with power steering and have Euro 5 compliant engines.
Don't expect these vans to drive like your everyday sedan, though. While the older models are described to be like riding a bull, driving one of our new models can be like riding a horse; it can be a little bumpy, but it's a lot of fun! You may not be able to go very fast, but who cares, you're on holiday! Driving a Buhanka is an experience in itself and we are sure you will love it.
Our converted campervans sleep two adults comfortably inside the van on a full size double bed. For an extra fee, we can mount a rooftop tent that will sleep another two adults or children.

Did you know "Buhanka" means loaf of bread in Russian? The nickname for this cute van has replaced its official name (UAZ-452) in everyday language.
Features and specs
Seats: 4
4G WiFi hotspot
Sleeps: 2 or 4 adults (with tent)
Internal bed: 120×200 cm
Rooftop tent (option): 140×220 cm
Full kitchen:
30L compressor fridge,
double burner stove,
freshwater tank and washing up tub

Dual battery system

JBL portable bluetooth speaker
4×4
Low gears, differential lock
Cookware: pots & pans, bowls, plates, cutlery and utensils
2.7L petrol engine
Bedding: sheets, blankets and pillows
Power steering

Folding table and camp chairs
Roof rack
LED lighting, USB and 230V outlets
Options
Rooftop tent (€15.00/day)
Bike carrier (€5.00/day)
Pet cleaning charge (€50.00)
Interior and accessories
| | | | |
| --- | --- | --- | --- |
| 3-6 days | 7-14 days | 15-20 days | 21+ days |
| €89/day | €79/day | €74/day | €64/day |
So what are you waiting for?
Book now
---
Lada Niva 4×4 Camping Car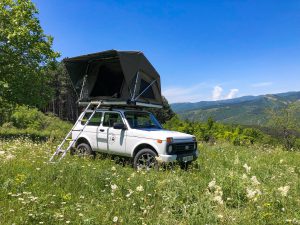 With over 530.000 exports and fan clubs all over the world, it's no small wonder that the Lada Niva is still in production today. Due to its lightweight yet durable build, this pocket-sized 4WD has reached more extreme places than most people do in their lifetimes – in 1988 it reached Mt Everest base camp, 1990 saw it become the first car to spend more than a decade in the Antarctic, and in 1998 it climbed to a height of 5726 metres above sea level in the Tibetan plateau in the Himalayas.
Since 2014 Lada has produced a new and improved version of the Niva called the 4×4 Urban, a modernised comfortable version of the Niva 4×4. These models are equipped with air conditioning, heated seats, electric windows and mirrors. Other than a few other cosmetic changes, the 4×4 Urban is the same classic Lada Niva, with the same time-tested design: a lightweight (just over a tonne!) unibody, full-time 4WD, a lockable central differential, independent gas-charged shock absorbers and high/low range gears.
So you get it, these cars can go everywhere, but what makes them the coolest camping car in the Caucasus?
To give you maximum comfort while you're out exploring the wilderness in this nifty 4WD we provide all Niva rentals with a rooftop tent. For those not familiar with such things, these are the bee's knees of camping products: they take less than a minute to set up, come with a 140x200cm memory foam mattress with all bedding included and take all the troubles of tent camping away by being mounted on the roof! In the rear of the Niva, you'll find chairs and a table, as well as a kitchen box set up to hold all your cooking needs for on the road: a portable stove with gas bottle, cooking equipment and a water container.
Fun fact – During the '80s and '90s Coca Cola imported its drinks into the Soviet Union and traded them for Lada Nivas, which were then shipped to the UK and sold.
Features and specs
Seats: 2
4G WiFi hotspot
Sleeps: 2 adults (in tent)
Rooftop tent (included): 140x200 cm
Bluetooth speaker system
4x4
Low-gear, differential lock
Kitchen:
camping stove,
freshwater tank and
washing up tub
1.7L petrol engine
Fuel usage: ~9-13L/100km
Manual 5-gearbox
Cookware: pots & pans, bowls, plates, cutlery and utensils
Power steering
Bedding: sheets, blankets and pillows
Airconditioning
Camp table and 2 chairs
USB charging outlets
All-risk insurance
| | | | |
| --- | --- | --- | --- |
| 3-6 days | 7-14 days | 15-20 days | 21+ days |
| €65/day | €57/day | €53/day | €45/day |
So what are you waiting for?
Book now
---
Toyota Hilux 4×4 Expedition Camper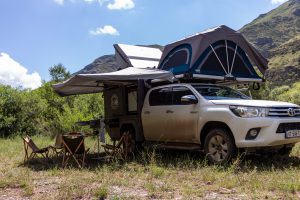 If you're looking for the ultimate camping vehicle that can go almost anywhere then look no further. Our Toyota Hilux 4×4 Expedition Camper changes the game completely when it comes to the camping experience. Not only does it have pretty much everything you could ever need when heading into the great outdoors, it can also comfortably fit the whole family! Our Expedition camper isn't just great for families, it's also the perfect size for groups of friends looking to have the adventure of a lifetime.
So what exactly makes it an Expedition Camper? What's that incredible looking camper unit on the back of the car? That, dear campers is the Crawler camping unit. The Crawler is designed to be one of the most compact yet versatile feature-filled camping units available on the global market. What better fit for a Toyota Hilux?
While the Crawler appears relatively small, snugly fitting on the back of the Hilux, don't let that fool you. Both the roof and one side of the unit fold out, expanding the space of the camper outwards and upwards, simultaneously providing more headroom and a comfortable interior sleeping space for two adults and a child. During the day this space can be converted into a comfortable lounge where you can relax, read a book, or get some work done on your laptop (which can be charged from power outlets located inside the cabin). The Crawler opens to expose a fully equipped outdoor kitchen, with an extraordinarily spacious fridge, a dual burner gas stove, and a tap with running water (attached to a 110L water tank). It seriously has everything you need, even two kitchen sinks!
To ensure your trip is still enjoyable in any weather (and to make all other campers very, very jealous) our Expedition Camper is equipped with a 270 degree awning which provides shelter from both the sun and rain. The cabin of the camper can also be heated thanks to an incredibly efficient diesel heater. Longer trips are no longer a smelly experience, either, as the Crawler is equipped with a shower and a shower tent!
If you're looking to bring along extra people, don't fret – with the rooftop tent you can sleep another two adults!
Fun Fact: The Toyota Hilux's name is a combination of "high" and "luxury", which couldn't be more accurate!
Features and specs
Seats: 5
4G WiFi hotspot
Sleeps: up to 4 adults and 1 child
Internal bed 1: 190x160/195 (2 adults)
Internal bed 2: 170x60 (child)
Rooftop tent: 140x220
Radio, CD-player, Bluetooth Audio
Dual battery system
Full kitchen:
65L compressor fridge,
double burner stove,
110L freshwater tank,
washing up tubs
4x4 capability
Low-gear, rear differential lock
Cookware: pots & pans, bowls, plates, cutlery and utensils
2.5L diesel engine
Fuel usage: ~7-11L/100km
Manual 6-gearbox
Bedding: sheets, blankets and pillows
Airconditioning
Standalone heating system

Folding table and camp chairs
Power steering
ABS
LED lighting, USB and 230V outlets
Outside shower (cold), shower tent
270 degrees awning
All-risk insurance
So what are you waiting for?
| 3-6 days | 7-14 days | 15-20 days | 21+ days |
| --- | --- | --- | --- |
| €149/day | €134/day | €124/day | €99/day |
Book now
Rooftop tent included
Pet cleaning charge (€50.00)
Compare all campers
UAZ Buhanka Campervan
Lada Niva Camping Car
Toyota Hilux Expedition Camper
Suitable for
4 persons
2 persons
5 persons
Seats
4
4
5
Sleeps
2 - 4 adults (with tent)
2 adults
4 adults
1 child
Roof top tent
Optional
Included ✅
Included ✅
Standalone heating
❌
❌
✅
Airconditioning
❌
✅
✅
Fridge
✅
❌
✅
Dual battery system and solar power
✅
❌
✅
Kitchen and cooking equipment
Included ✅
Included ✅
Included ✅
Camp chairs and table
✅
✅
✅
Bluetooth audio
✅
✅
✅
4G WiFi hotspot
✅
✅
✅
Off-road capabilities
4x4
Low gears
Center diff lock
All-terrain tyres

Very capable off-road, high clearance
4x4
Low gears
Center diff lock
All-terrain tyres

Short wheelbase, not very high clearance, can go almost everywhere
4x4
Low gears
Rear + center diff lock
All-terrain tyres

Very capable off-road, not very high clearance and quite long
Power steering
✅
✅
✅
Outside shower
❌
❌
✅
Fuel usage
~10-15L/100km (Petrol)
~9-13L/100km (Petrol)
~7-11L/100km (Diesel)
Insurance (all-risk)
✅
✅
✅
Book now
Book now
Book now