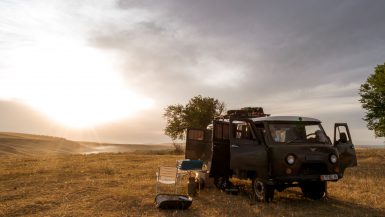 Here at Overlando we specialise in self-driving overland adventures. Our aim is to share our passion for road trips through new territories by providing you with everything you could ever need in our fully equipped overlanding vehicles.
We're located in Tbilisi, Georgia, on the divide between the East and the West. Tucked away from the world in the heart of the Caucasus mountains, Georgia is the ultimate road-trip destination. Despite its small size, Georgia has more than its fair share to offer. With landscapes ranging from soaring mountains to lush green valleys, temperate rainforests to year-round snows and glaciers, it inspires awe in all who visit. No matter what you're looking for, there's something here for everyone. If outdoor activities are your thing, then there's plenty for you too, such as hiking, rock climbing, horse riding, or even paragliding! If you're just looking to escape and relax, then head on out to one of Georgia's famous wine regions, or have yourself a beach holiday along the Black Sea coast.
No matter what you choose, all our 4×4 vehicles are fully equipped and maintained to get you there safely and in comfort. Currently we offer custom-converted UAZ Buhankas and fully equipped 4×4 Lada Niva camping cars for rent, but we will be increasing our range in the future to allow for even more types of adventures. Click here to find out more about our awesome cars!
Overlando was founded by travel enthusiasts and experienced overlanders, so we understand fully that sometimes you want to explore even further. Contact us if there's something that you're interested in doing that we don't list here on our website – We're sure that we can work something out!
"Overlanding is self-reliant overland travel to remote destinations where the journey is the principal goal. Typically, but not exclusively, it is accomplished with mechanised off-road capable transport (from bicycles to trucks) where the principal form of lodging is camping, often lasting for extended lengths of time (months to years) and spanning international boundaries." – Wikipedia
What our guests say
We really got a taste for off road driving
Hi! We had such a great experience renting a Lada Niva from Overlando. Joris was very helpful and kind and the pick up and drop off of the car felt very trust based. Really appreciated it. It made our pick up easy and fast and the drop off very convenient for us.
The car is equipped with everything you could possibly need – reading material (LonelyPlanet + a book written by Georgians about Georgia), and the classic gear; a stove, table and chairs etc. + coffee and spices (which is a small – but lovely gesture).
The tent is easy to rise, the bed is very comfortable and the view changes from day to day. We really got a taste for off road driving and loved being able to set camp wherever we wanted and being close to the wind, weather and the call of hyenas.
Read on Google maps
Lea Elinor Nielsen