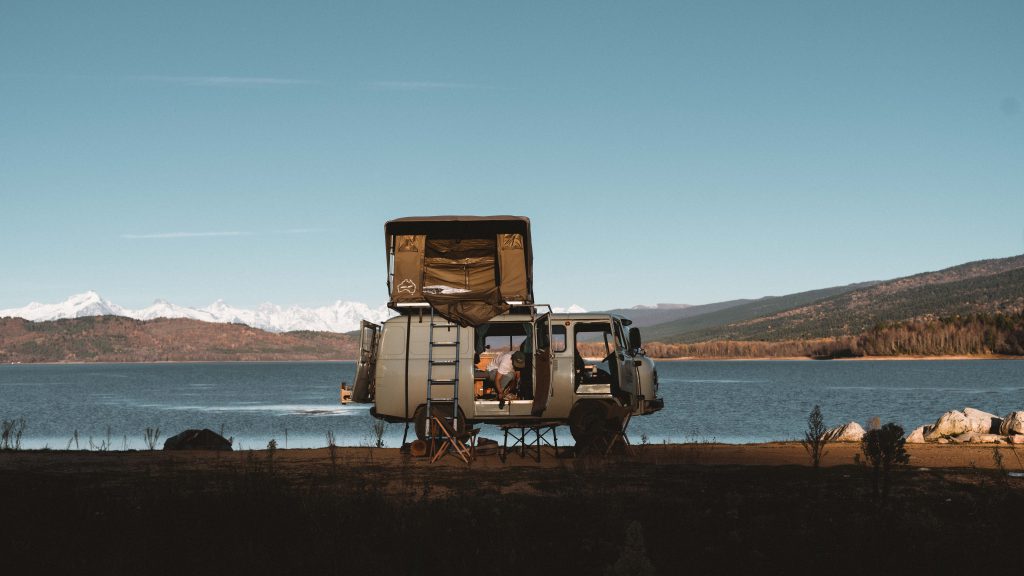 Here at Overlando we specialise in self-driving overland adventures. Our aim is to share our passion for road trips through new territories by providing you with everything you could ever need in our fully equipped overlanding vehicles.
We rent out several types of campers, so there is always one that fits your group size, budget and holiday plans.
Between the East and the West
We're located in Tbilisi, Georgia, on the divide between the East and the West. Tucked away from the world in the heart of the Caucasus mountains, Georgia is the ultimate road-trip destination. Despite its small size, Georgia has more than its fair share to offer. With landscapes ranging from soaring mountains to lush green valleys, temperate rainforests to year-round snows and glaciers, it inspires awe in all who visit. No matter what you're looking for, there's something here for everyone. If outdoor activities are your thing, then there's plenty for you too, such as hiking, rock climbing, horse riding, or even paragliding! If you're just looking to escape and relax, then head on out to one of Georgia's famous wine regions, or have yourself a beach holiday along the Black Sea coast.
Fully equipped camper rentals
No matter what you choose, all our 4×4 vehicles are fully equipped and maintained to get you there safely and in comfort. Currently we offer custom-converted UAZ Buhankas, fully equipped 4×4 Lada Niva camping cars and a luxurious Toyota Hilux Expedition Camper for rent, but we will be increasing our range in the future to allow for even more types of adventures. Click here to find out more about our awesome cars!
Overlando was founded by travel enthusiasts and experienced overlanders, so we understand fully that sometimes you want to explore even further. Contact us if there's something that you're interested in doing that we don't list here on our website – We're sure that we can work something out!
"Overlanding is self-reliant overland travel to remote destinations where the journey is the principal goal. Typically, but not exclusively, it is accomplished with mechanised off-road capable transport (from bicycles to trucks) where the principal form of lodging is camping, often lasting for extended lengths of time (months to years) and spanning international boundaries." – Wikipedia
What our guests say
Living that Van-life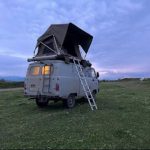 My husband and I rented Overlando's UAZ Buhanka in May 2022 for a week to visit the western and north-western part of Georgia. We drove from Kutaisi to Mestia, then back down to Bakuriani, while stopping by natural sulphur pools, the world-famous Martvili canyon and Prometheus cave, and beautiful overnight camping spots.

We absolutely enjoyed our drive/stay in the UAZ. Overlando has designed the UAZ keeping user experience first – we were so pleased by how the "furniture" could be moved and folded to suit our needs. The bed linen given along with the van were also so comfortable and helped keep the heat at bay. Even the kitchenette was well thought out, and adequately stocked with travel utensils and cutlery. We frequently stopped on our route to make ourselves a cup of tea.

Although we couldn't use the tent much as it frequently rained, it was a simple mechanism and we were surprised by the amount of space inside the tent.

The Overlando helpline is also always available to sort out any issues during the journey and they also provide 5 GB of WIFI included with the vehicle, with more data available to purchase if needed.

Overall, it was an excellent experience with Overlando, and we hope to go back to explore more parts of Georgia, with our UAZ home.
Pooja R