Beach resorts not really your thing? How about a trip to an old Czarist era spa and resort town, hidden away from the world in the forests of the Borjomi-Kharaguli National Park in south-east Georgia?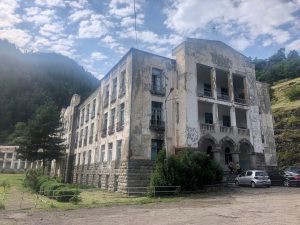 For centuries this region has been known amongst locals for its crisp refreshing air, coniferous forests and rejuvenating thermal waters, yet it wasn't until the 1850's that it attracted outside attention. Shortly afterwards, the town of Abastumani was transformed into a resort town for a member of the Russian imperial family and was then later used by Soviet elite as a retreat. While nowadays most of its glory is gone, as could be seen by the many derelict buildings, the place still serves as a sanatorium and features several hotels, an observatory and plenty of space for recreation.

The observatory
High up on Mount Kanobili you will find the Abastumani Astrophysical Observatory, one of the best observatories in the Caucasus region. It features a total of seven telescopes, built in the Soviet eras from 1932 to 1978. Due to the altitude of 1700m and it's remote location, there are ideal conditions for stargazing.
Be sure to visit the observatory at night, where you can check out the small museum and take a tour around the place before trying your hand at spotting some planets or constellations with one of their old school telescopes. When it's being operated, the telescope dome opens up to reveal the sky, while the platform that the telescope rests on swivels, its mechanisms whirring and creaking with age. It's an almost eery experience, but one you certainly won't forget!

To reach the observatory you can either drive up a winding asphalt road or take a ride in a rickety old soviet cable car all the way up from the village nearby.

If you want to get a real glimpse into the past, you'd better hurry, as the World Bank provided funds in 2018 to restore and rehabilitate the observatory. At this point in time works are set to be completed by 2021.

Zekari Pass
It's about a 250 km drive from Tbilisi to Abastumani, but rest assured there are more than enough interesting places along the way, including Borjomi and Akhaltsikhe. If you're feeling a little adventurous, continue up north in the direction of Sairme and Kutaisi and you'll reach Zekari Pass. Weather permitting, the road is passable from about May to September although it is advised to only cross in a vehicle with high clearance and 4×4 transmission as you will pass through rocky, muddy and pretty steep tracks. All your hard work won't be in vain though, as the landscape opens up in front of you. With the highest point being 2200 metres above sea level you'll be awestruck by the stunning views into the misty valleys and forests below. Feel like a rest? Here you'll find plenty of spots to kick back and relax with a picnic, or even set up camp for the night.

More info
http://www.bbc.com/future/story/20151102-the-secret-soviet-observatory-still-spying-on-space
https://www.georgianjournal.ge/society/32404-georgias-astrophysical-abastumani-observatory-to-be-restored.html
Header photo credits
Tbel Abuseridze